Vegan Wines Tasting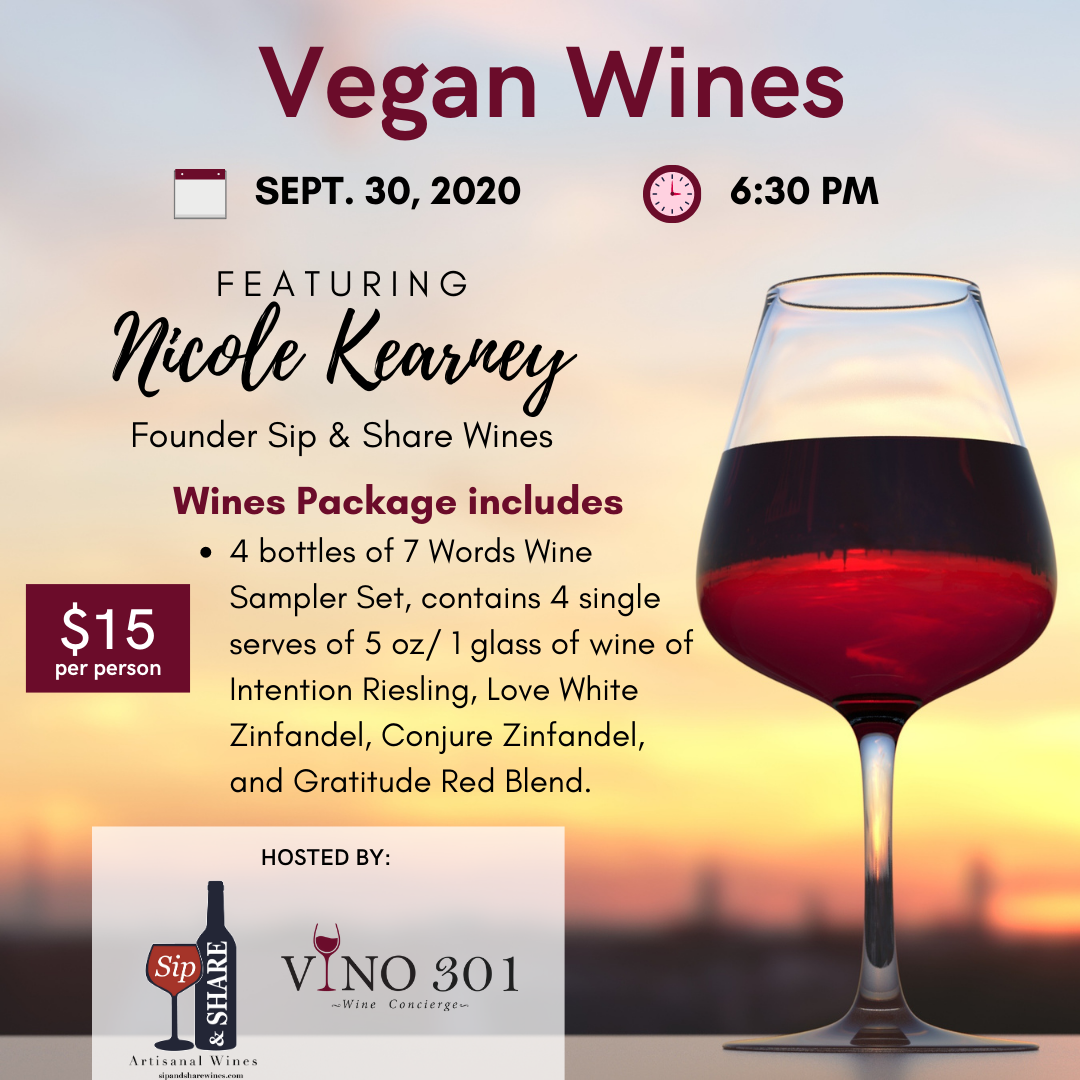 Duration: 1 Hours (approx.)
Product code: WT-038
Vegan Wines featuring Nicole Kearney, Winemaker, and Founder Sip and Share Wines. Sip and Share Wines was recently named by Forbes.com 10 Fantastic Black-Owned Wines And Spirits To Add To Your Summer Shopping List. She will discuss alternatives to traditional wines.

Vegan Wines Tasting is on September 30, 2020 at 6:30 pm on Zoom.
You can sip along during our discussion. You will purchase your wine directly from Sip & Share. https://sipandsharewines.com/collections/all/products/4-bottles-7-words-wine-sampler-set Your wine package will include:
Here are the wine descriptions:
Conjure Zinfandel Dry,
full-body, fruit-forward with deep red color. Aromas of raspberries and
peppercorns with flavors of dried herbs, vanilla, chocolate, black cherry and
blackberry. Complements vegan/vegetarian foods, burgers, pasta,
grilled food, lamb chops, seafood and pork. ALC 13%
Gratitude Red Blend Dry, medium body with
deep red color. Aromas of strawberry jam, plum with flavors of black pepper and
sour black cherry. 50/50 Cabernet Sauvignon /Merlot. Complements vegan/vegetarian
and grilled foods, tomato-based pasta, vegetables, pizza and red meats.
ALC 14%
Intention Riesling Semi-sweet, light-body,
crisp and refreshing with golden color, aromas of citrus fruits and white
flowers with flavors of lemon zest and apple blossom.
Complements vegan/vegetarian foods, Asian, turkey, barbecue, chicken,
sushi and salads. ALC 13%

Love White Zinfandel Semi-sweet, light-bodied rose color with aromas of strawberries, cherries and raspberries.
Complements vegan/vegatarian foods, turkey, chicken, fish and spicy
foods. ALC 10%
******NOTE****** The website will say they're out of stock, so other folks will not buy it. IT IS NOT OUT OF STOCK
About Sip & Share:

Sip & Share Wines is a boutique winery
passionate about creating a community with wine for wine lovers overlooked and underrepresented
by the wine industry. Our diversity of artisanal vegan wines are approachable
to all palates, fun to sip and share and available via our wine club or
by-the-bottle at sipandsharewines.com.